Insurance is there to cover life's unexpected events. 
Tigers Eye Self Storage does NOT insure your goods, insurance on your goods is required. Please choose your coverage through SafeStor Tenant Insurance or let us know who your current insurance is with by providing us with a copy of your Declarations Page and Policy Number.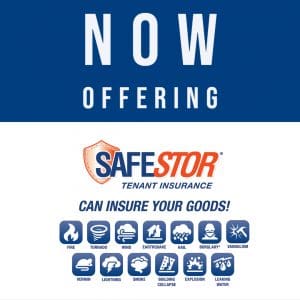 SafeStor 
Self-storage insurance
Why would I get SafeStor insurance?
Unforeseen and unexpected losses can happen as the result of natural disasters, weather, fire, and other events beyond anyone's control. Insuring your stored goods for such losses is your responsibility. Your self-storage facility is not responsible and does not insure your stored possessions.
For that reason, we offer Safestor: an inexpensive, optional insurance plan tailor made to safeguard your stored goods.
"If it's worth STORING, it's worth PROTECTING!"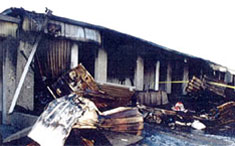 Protecting your goods in storage is your responsibility. Make sure you're protected.
What does SafeStor cost?
Safestor provides four levels of coverage limits with four corresponding monthly rates.
| Coverage | Monthly Premium |
| --- | --- |
| $1,000 | $7.95 per month |
| $5,000 | $10.95 per month |
| $10,000 | $20.95 per month |
| $15,000 | $35.95 per month |
This means that for as little as .26 cents a day you can have the peace of mind that your stored goods are protected. Safestor Insurance is the best insurance product of its kind in the market today.
What's covered by SafeStor insurance?
You are covered for property losses due to fire, hurricane, tornado, wind, earthquake, smoke, lightning, hail, vandalism, building collapse, leaking water, burglary, vermin and explosion.
Please review specific coverage and exclusions in the frequently asked questions.
https://www.ponderosainsurance.com/
Frequently asked questions
General Questions
What kinds of property are not covered?

Property that is not covered includes: financial records, currency, deeds, securities, stamps, jewelry, watches, precious stones, furs or garments trimmed with fur, works of art or antiques, motorized vehicles of any type, whether licensed for road use or not, such as motor scooters, ATVs, or motorcycles.

When can I expect to receive my policy?
What should I do if I have a claim?

Contact our claims office at 877-528-5674. A claims adjuster will personally handle your claim. Claim payment is based on today's value of your belongings.

Is there a deductible?
SafeStor Questions
What does SafeStor cost?

The cost of SafeStor depends upon the amount of coverage you desire. We offer 4 coverage limits: $1,000, $5,000, $10,000 or $15,000. The premium per month for those limits are $7.95, $10.95, $20.95, $35.95 respectively.

When does my coverage begin?

At the time of rental and payment.

Are my stored possessions covered by my homeowner/renter policy?

Many homeowner/renter policies provide only limited coverage for possessions stored away from the insured location. You should contact your insurance agent or carrier for more specific details on your coverage.
We do not offer advice on coverage for your goods. Please consult your insurance agent on your current insurance policy to confirm that your stored items are in fact insurance.

What's covered by SafeStor insurance?

Safestor covers you in case of loss or damage to your stored goods from fire, hurricane, tornado, wind, earthquake, vandalism, lightning, smoke, hail, building collapse, explosion, leaking water, vermin and burglary. Also, there must be visible signs of forced entry and a police report must be filed. Furthermore, there is no coverage for loss caused by or resulting from war, flood (or surface water).

What if I remove my goods before my coverage ends?

Notify us in writing that you want to cancel. We will gladly remit a refund for all full policy months not used.

How much of my loss can I recover?

You can recover today's value of your stored belongings, (original cost minus depreciation), up to the amount of insurance you purchased.